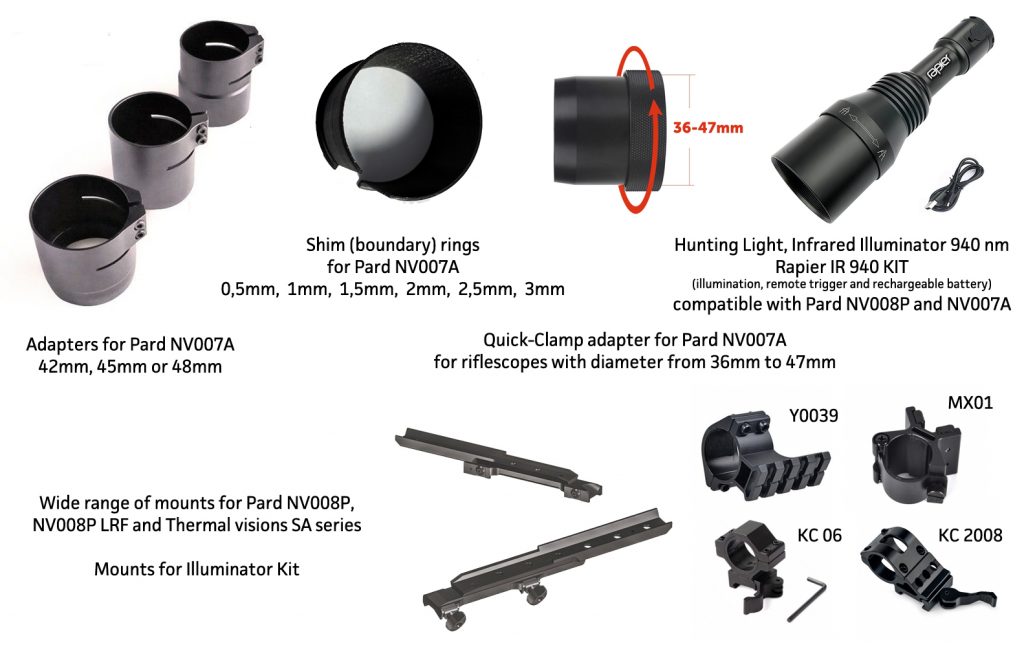 We offer wide range of acessories and rifle mounts for Pard devices:
---
Adapters for Pard NV007A – 42mm, 45mm or 48mm
The PARD adapter is an original sleeve with a diameter of 42mm or 45mm or 48mm for the product Pard NV007A.
---
Shim (boundary) rings for Pard NV007A – 0,5mm, 1mm, 1,5mm, 2mm, 2,5mm, 3mm
Delimiting ring for Pard NV007A.
---
Quick-Clamp adapter for Pard NV007A – for riflescopes with diameter from 36mm to 47mm
Quick mounting for night vision Pard NV007. The adapter is suitable for eyepiece diameters from 36 mm to 47 mm – no need to use a spacer ring. No additional adhesive tape compensation is required! Quick assembly and disassembly – simply loosen the retaining ring and remove the adapter.
---
Hunting Light, Infrared Illuminator 940 nm – Rapier IR 940 KIT (illumination, remote trigger and rechargeable battery) compatible with Pard NV008P and NV007A
The Rapier 940 nm IR-resistant illumination is a high-performance illumination for use in digital night vision. Thanks to the wavelength of 940 nm, it is absolutely invisible to wildlife and the human eye. The advantage of afterglow is the continuous adjustment of the power and the centering of the beam horizontally and vertically.
---
Wide range of mounts for Pard NV008P, NV008P LRF, Thermal vision scopes SA series and Mounts for Illuminator Rapier IR 940 Kit
BAIKAL IŻ 18 MH – EXPRESS, BLASER, BRNO 502 / 802 / CZ 584 / ZH, BETTINSOLI – EXPRESS / BRNO COMBO, CZ 527, CZ 550 / CZ 555 / CZ 557 / ZKK 600, FAIR –EXPRESS COMBINATION GUN, KEPPELER, MANNLICHER DUETT – EXPRESS COMBINATION GUN, MERKEL KR-1 / B3 / FABARM, SABATTI – EXPRESS, SAUER 303, SAUER 404, TIKKA 512, TIKKA T3 / 595 / 695.
---
If you are interested in wholesale cooperation, please contact us by email at vajda@rapier.sk or by WhatsApp.